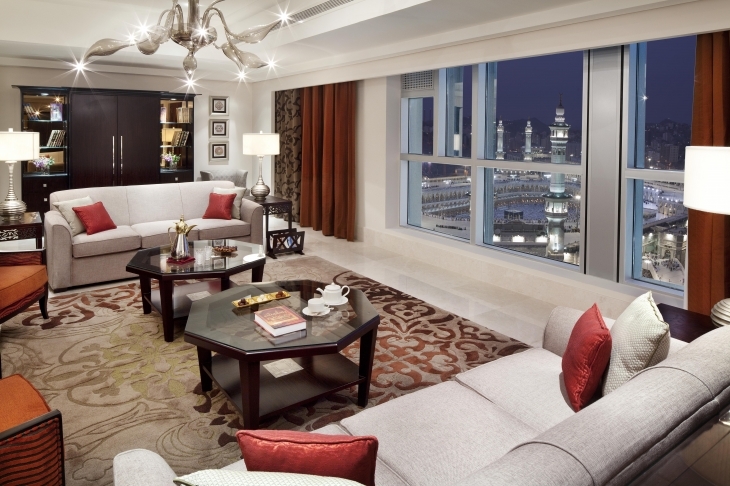 Makkah Clock Royal Tower offers unmatched hospitality throughout the ultimate exclusive hotel experience with Fairmont Gold where Our discerning guests have the privilege of choosing their rooms showcasing unrivaled views of either the Kaaba, Haram or to The Holy City of Makkah Al Mukaramh. A captivating view to Masjid Al Haram and Kaaba and a passion for uncompromising service combine to create an experience that is exquisite and truly unforgettable in theFairmont Royal Floor, where all the service and luxury synonymous to the Fairmont name go yet another step further.Experience a peaceful residential experience with luxury hotel services at our newly opened Fairmont Residences. Located within the Makkah Clock Royal Tower, the residences offer the ultimate in convenience and luxury, coupled with magnificent views of the Kaaba and the Holy city. Designed with comfort in mind, the spacious residences are a perfect home for pilgrims and families who desire to enjoy the serenity of the Holy City from their rooms.
The five-star hotel offers more than 3,200 square meter of adaptable function space across two floors, including a fully equipped business center with secretarial service, meeting rooms with a pre-function area, and a spectacular ballroom, in addition to a videoconferencing facility, a media room with live broadcast capabilities, a live translation room.
At our state-of-the art Health Club and Spa, you'll enjoy all the world-class amenities, with Fairmont's world-renown service and attention to detail. Let your daily stress melt away in our wonderful Jacuzzi, Sauna and Steam Rooms.
Visas for Saudi Arabia
For legal documents and visas, guests traveling to Makkah are highly advised to visit the Saudi Embassy or licensed Hajj and Umra operators in their country of residence.
King Abdul Aziz Endowment
Abraj Al Bait Complex
Makkah
Saudi Arabia
P.O. Box 76
web : www.fairmont.com
Location
Located adjacent to the Masjid al Haram, Makkah Clock Royal Tower, A Fairmont Hotel offers the finest hospitality in the holy city of Makkah. One of the world's tallest, this 76-story hotel is the focal point of the Abraj Al Bait Complex, part of the King Abdul Aziz Endowment Project. Among its outstanding features is a 40-meter (130-foot) Royal Clock, visible from 17 kilometers (10 miles) away, which will announce daily prayers to the Muslim world; meanwhile, the Lunar Observation Center and an

Room Type
Every one of the hotel's 1299 guest rooms and suites are thoughtfully and elegantly appointed—with extravagant amenities and five-star services that allow for peaceful reflection and repose

Facilities
In addition to the opulent and elegant comfort of the rooms and suites offered at this five-star hotel,56 state-of-the-art elevators allow easy access to the holy Masjid al Haram for prayers. And, at any time, nine exceptional dining venues will be available to accommodate intimate or expansive gatherings.